Turkmenbashi is Buried, Long Live Turkmenbashi II?
Turkmenbashi's casket at the state funeral
Turkmenbashi's image being washed off a building in Ashghabad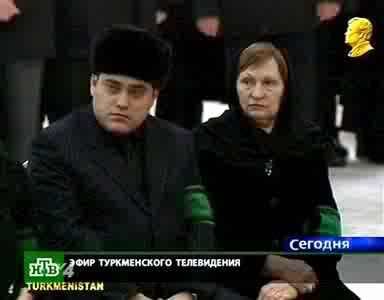 Turkmenbashi's legal wife and son at the funeral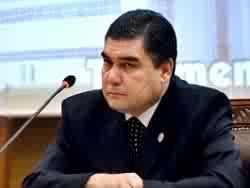 Turkmenbashi's likely successor Gurbanguly Berdymukhammedov
Yesterday's People's Congress (Khalk Maslikhaty) meeting that has anointed him
The funeral of Turkmenbashi on December 24 was the last act in Saparmurat Niyazov's ostentatious show-like life as the "Great Leader" of Turkmenistan. While
the event offered much of the pomp and circumstance
that characterized the life of Turkmenbashi the Great, it also provided an air of change…. sort of.
While Turkmenbashi's legal wife and son were in attendance, they did not feature prominently. Furthermore, sources who watched the funeral carefully have told me that they had not seen Turkmenbashi's close confident from Turkey
Ahmed Chalik
in attendance at all. Instead, the person who seemed to feature most prominently at the funeral was the acting president,
Gurbanguly Berdymukhammedov
, who many are saying is Turkmenbashi's illegitimate son.
Yesterday, Berdymukhammedov emerged as the favorite candidate to succeed Turkmenbashi as the president of the country. At a long awaited session of the People's Congress,
the constitution was changed
in order to allow Berdymukhammedov to be eligible as a presidential candidate. Furthermore,
Berdymukhammedov was unanimously nominated by the Congress to be a candidate
in nationwide presidential elections that are now scheduled for February 11. While
the Congress also nominated an additional five candidates
, all of whom are lower level officials in government, nobody expects Berdymukhammedov to be challenged in the election. The head of the Turkmen Central Election Commission has said as much, also noting that
no international observers are needed for the election
. Furthermore, as if he was beginning his election campaign, Berdymukhammedov yesterday already
promised to continue his predecessor's policies of state subsidies for the economy
, including the provision of free gas and water.
All in all, it seems that Turkmenbashi's alleged illegitimate son may smoothly transition into the position of Turkmenbashi II….sort of. Analysts note that
Berdymukhammedov was little known prior to last week
, and the real power behind him are the much more prominent and powerful heads of the power ministries, such as Agageldi Mamedgeldyev (Minister of Defense), Geldimukhammed Ashirmukhammedov (head of the KGB), and especially Akmurat Redzhepov (head of the Presidential Guards). But there is also much discussion of the competition between these various figures who control the all-important military and security organs in the country. Yesterday, for example, a rumor was spreading that
Mamedgeldyev had been arrested
along with over 100 lower level functionaries. While these rumors have not been entirely dismissed, people viewing yesterday's Khalk Maslikhaty meeting noted that Mamedgeldyev was present and featured prominently. Others in Turkmenistan note that Berdymukhammedov is not completely trusted by the security organs, who distrust his past collaboration with international organizations on health projects.
As a result, many are saying that Berdymukhammedov may only be a temporary president while various interest groups continue to negotiate power, and others speculate that he will be

a weakened president that serves mostly representative duties
. The question is whether such a president can either maintain the control over his population that his predecessor did or gradually initiate the reforms needed to bring the country into the international community.
Furthermore, a smooth transition of power faces other serious obstacles. Almost immediately after Turkmenbashi's death, for example,
Deutche Bank froze his infamous bank account
that was assumed to be critical to running the country. In addition,
opposition parties in exile have nominated two candidates for the presidency
and appear ready to challenge the legitimacy of the election, especially if they were to be backed by either internal or external forces that do not agree with Berdymukhammedov's rise to power.
So, at present, things remain in flux in Ashghabad. On the one hand, a process is underway to legitimize Berdymukhammedov as Turkmenbashi's successor. On the other hand, struggles within the power ministries may still be underway and various forces seem prepared to either control Berdymukhammedov from behind the scenes or to derail the entire process. With elections still one and one-half months away, much could still happen. The only thing that is clear is that despite all the talk of geopolitical battles that may be involved in Turkmenistan's presidential succession, publicly the U.S., Russia, and all other geopolitical actors are being silent about their interests in the process.