Samruk, the U.K., and Kazakhstan's Search for State Capitalism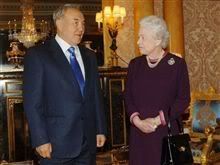 President Nazarbayev and Queen Elizabeth II in London last month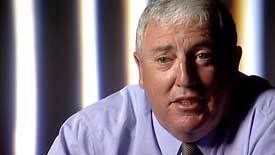 Sir Richard Evans, the new Chairman of
Samruk
This past summer, an acquaintance in Kazakhstan's financial sector told me that his country was most likely to become a corporate state devoid of any ideology beyond a drive for economic development. In many ways, this has been the image that President Nazarbayev has been cultivating for his country ever since his first trips to Singapore, Malaysia, and South Korea in the early 1990s. While the strength of the "Asian Tigers" has waned some since that time, Nazarbayev still has intense admiration for their model of development. When asked by a citizen on a recent call-in show about what books he reads, President Nazarbayev noted,
Recently I have read 'Singapore history: from third world to the first one' –memoirs of famous Singapore leader Lee Kuan Yu, who has been President during 33 years. Brilliant book…..This small provincial and multi-national town has developed into one of the richest states in the world.
While Kazakhstan differs from the "Asian Tigers" of East Asia in many ways, it does share with them a certain interest in the idea of the corporate state. It is not so surprising, therefore, that
Nazarbayev modeled his idea for the state holding company Samruk on Singapore's Temasek Holdings.
If the idea for
Samruk
came from Singapore, the company appears to be aligning itself primarily with the United Kingdom. While Great Britain is presently only the third largest investor in Kazakhstan, the London Stock Exchange has become the favored site in the attempts of Kazakhstan's ruling elite to consolidate their largest assets into public offerings. It is not surprising, therefore, that President
Nazarbayev's recent trip to London was mostly focused on business relations
and even included an opportunity for the President to open trading at the exchange.
With Kazakhmys and sections of KazMunaiGaz and Kazkommertzbank already on the London Stock Exchange, it has already been announced that there are intentions to open IPOs for the majority of
Samruk's
state holdings on the LSE. It would seem that this is one reason that Kazakhstan recently announced the hiring of British citizen
Sir Richard Evans
to lead
Samruk
. Evans formerly ran Britain's largest arms manufacturer,
BAE Systems
, which under Evans began a joint venture with Kazakhstani partners to establish the present domestic airline monopoly in Kazakhstan,
Air Astana
.
Sir Richard Evans, however, is not an uncontroversial figure in the U.K. While under his control, BAE systems was embroiled in
a corruption scandal concerning an alleged slush fund intended for bribing Saudi government officials.
It is for this reason that the Guardian slyly suggested a
comparison between Evans and the well-known American ex-advisor to Nazarbayev, James Giffen
in its article about Sir Richard's appointment to
Samruk
. In this context, it is difficult to know whether Evans' association with
Samruk
will help or hurt the state holding company in its attempts to establish IPOs on the London Stock Exchange. One thing, however, is for sure – Kazakhstan is moving ahead with its vision of a corporate capitalist state, and it hopes that London will be an important financial hub for the operations of the future "Kazakhstan Inc."