"Puppet Master" Mr. Utemuratov comes out of the shadows: Understanding Kazakhstan's Billionaires on the Forbes List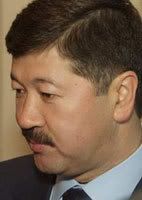 Forbes' list of billionaires has added another Kazakhstan name to its list –
Bulat Utemuratov
– bringing the country's "official" members in the elite billionaire club to 8. Before one gets too excited about what appears to be Mr. Utemuratov's rapid rise to wealth, let's keep in mind what gets a Kazakhstan billionaire on Forbes' radar screen. First, the Forbes list appears to operate on legitimate wealth that is documented publicly. There is likely a lot of wealth in Kazakhstan that remains hidden from the public eye, and there may well be more than 8 billionaires as a result. The money of Kazakhstan tends to become publicly visible when major assets are bought from or sold to a foreign company (PetroKazakhstan, Nelson Resources, etc.) or when assets are legitimized through international stock markets (Kazakh Mys, KazKommertz Bank, Kazakh Oil, etc.). In Mr. Utemuratov's case, he earned $1 billion
by selling his stake in the country's number 5 bank, ATF,
last year to the Italian company Unicredit. Hence, we now know that he is a billionaire, on paper at least.
The question one should ask about Kazakhstan's Forbes billionaires is whether the people on it, in actuality, have more or less money and assets than is disclosed by Forbes. One reason they could have more money and assets than disclosed is that the disclosed amounts are only the publicly known parts of their wealth. One reason they could have less money and assets is that they could in fact be "representing" somebody else economically. Vladimir Kim, for example, remains the alleged richest person in Kazakhstan according to Forbes, but many in Kazakhstan have suggested that Kim's largest asset,
Kazakh Mys,
is really owned by President Nursultan Nazarbayev or a group of people in government, but certainly not Kim himself. Hypothetically, if this was the case, it would probably mean that Kim still has plenty of money, but he saves others the embarrassment of appearing to be both politicians and financial barons by "representing" them. The term often used to refer to such people in the former Soviet Union is "kashalok," or "pocket-book."
So – back to Mr. Utemuratov. What do we know about him? Is he really a billionaire or merely a rich and powerful "kashalok" for others? Is he worth more or less than a billion?
In the last twenty-five years, Bulat Utemuratov, who is from Atyrau, has risen from the deputy director of Almty's "Yubeleinyi" supermarket during the late Soviet period to be one of the most powerful people in Kazakhstan. He is widely seen as one of President Nazarbayev's closest confident and his fixer, holding a host of positions within the presidential administration.
One announcement of his entry into Kazakhstan's billionaire club even referred to him as Nazarbayev's "consigliere,"
drawing from one of my favorite analytical devices for understanding Kazakhstan's power structure – The Sopranos. The aspect of Utemuratov's job within the Kazakhstan power structure that fascinates me most, however, is his role vis a vis political opposition and media. While Utemuratov is an advisor and close confident to the president, allegedly part of his job in the past has been to ostensibly control the two most visible information outlets in Kazakhstan that take more critical stances towards the government – the television station Channel 31 and the newspaper
Vremya.
Unlike the other Central Asian states, which try to stifle opposition media completely (Kyrgyzstan sometimes unsuccessfully), Nazarbayev's regime has taken control over such media while allowing it to remain oppositional, within reason. Nazarbayev has even been rumored to have said that he "creates his own opposition" by exerting such indirect control over both political parties and media. As Andrew Wilson has shown in
his book "Virtual Politics,"
this is a strategy that the Kremlin has employed since the days of Gorbachev, but it should be noted that Nazarbayev's government has been especially adept at this particular kind of subtle and powerful control of the political field. While Utemuratov has
sold a good chunk of Channel 31 to a Russian media group
and may no longer control "Vremya," he presumably remains Nazarbayev's "puppet master" extraordinaire. It is assumed that he answers to the president for the behavior of the opposition and seeks to keep them under control.
While Utemuratov may indeed serve his master, a man of his power could certainly be assumed to retain control over a modest asset such as Kazakhstan's No. 5 bank (for years of loyal service at the very least). In other words, one would assume that Mr. Utemuratov's value to the president goes far beyond that of a "kashalok." Thus, unlike Kim, who probably is worth less than Forbes assumes, Utemuratov may indeed be worth more. As an aside, Mr. Utemuratov, who is obviously an extremely intelligent navigator of Kazakhstan's political and economic terrain, may have displayed his usual craftiness in selling off ATF bank late last year – just in time to escape what may be
an impending banking crisis
in the country. So, Bulat Utemuratov should be congratulated for staying ahead of the curve as usual – of course, he probably has a good deal of insider information to help him stay ahead of the pack.