Of Sports, Oligarchs, and Localism; Or, Why I think Alisher Usmanov (or Timur Kulibayev) should buy the Buffalo Bills
Alisher Usmanov – he even looks like he could be from Buffalo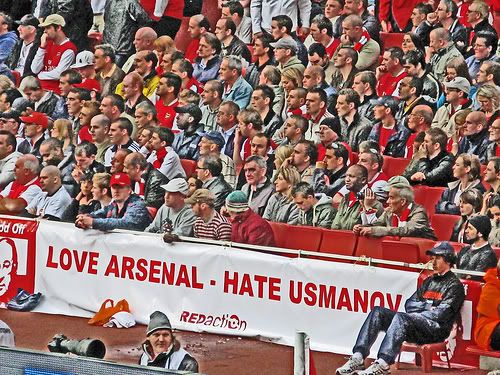 Usmanov or any other post-Soviet oligarch would not get this kind of reception from a Buffalo crowd (as long as they are not letting their two best stars escape to free agency)
The charging Buffalo could be replaced by a Marco Polo sheep or a nomadic warrior as long as it represents Buffalo.
One of the joys of blogging is being contacted "out of the blue" by people working on similar issues from whom one can learn additional tid-bits of information leading down a certain path one had not contemplated before. Such contacts drive the synergy of information sharing across borders in today's world of rapid communications. Recently, I got such a call on my cell phone from a British journalist wishing to speak about the Uzbek billionaire from Russia,
Alisher Usmanov
. From this resourceful journalist, I learned that Usmanov has become quite famous, or perhaps infamous, in England as of late. His new-found fame, however, is not related to the rumors of him being a
potential heir to Islam Karimov
as president to Uzbekistan nor due to the fact that he took over the influential Russian newspaper
Kommersant
from Boris Berezovsky. It is also neither because Usmanov is now
the 142 wealthiest billionaire in the world
nor due to his position as
president of Russia's Fencing Federation
. Rather, Usmanov has become famous for his attempts to
buy the controlling shares
of the north London football club
Arsenal
. As the journalist who contacted me explained, Usmanov's drive to take over Arsenal is seen by many loyal fans as an act of globalization displacing localism.
While Roman Abramovich has been able to court the fans of Chelsea, Usmanov has been subjected to something of grassroots campaign against him and his football ambitions in Britain. Not surprisingly, a leader in this campaign is the controversial former British Ambassador to Uzbekistan, Craig Murray, who has great distaste for anything or anybody with ties to Islam Karimov. After Murray published a post on his blog accusing Usmanov of being a
"vicious thug, racketeer, heroin trafficker, and accused rapist,"
, Usmanov's allegedly used legal threats to get Ambassador Murray's post taken down at least temporarily began a libel suit against Murray. Unfortunately for Mr. Usmanov, this only had a reverse effect, and the post quickly began popping up all over random British blogs as a sign of support for freedom of speech on the internet. This scandal has led to a variety of anti-Usmanov posts to be found in blogs scattered throughout cyberspace, including
these
,
these
, and
these
. At the same time, Usmanov, as a media mogul himself, is also
fighting back at Murray through the media
by cultivating loyal journalists and promoting his legitimate business successes.
To me, however, Usmanov's battles with Murray are not nearly as interesting as the issue that the Uzbek Billionaire's desire to own a controlling share of Arsenal is perceived as
a threat to localism in the U.K
. Among the hardcore Arsenal fans, the football club represents their identity as being from north London, and they feel the team should be owned by somebody local. The biggest issue in this debate at present is whether Usmanov should be able to take over the controlling interest in the team. He is already the second largest share-holder, but there are reports that he is
buying every available share to make himself the primary owner
. These actions are drawing significant attention to the Russo-Uzbek oligarch and making him a
staple figure in the British tabloids
. Furthermore, Usmanov's take-over attempt is drawing significant criticism and even
active protests from Arsenal's fans
.
Usmanov's ethics as a businessman and alleged past wrong-doings aside, I can't help but wonder if the fears of Arsenal's fans are not a thing of a passing era. Sports in the age of globalization have been substantially withdrawn from their moorings locally, at least in terms of personnel and ownership. But, when a Japanese pitcher leads the Boston Red Sox to the World Series or the "franchise player" of the Washington Capitals is a young Russian hockey star, does that make local fans any less enthusiastic for them? In fact, there are very few big-time pro-sports teams today that have any local players. The truth, however, is that this phenomenon does not deter from the power of sports teams to serve as one of the strongest sources of local pride for people around the world. If anything, the bond with local sports teams has become even stronger in the recent past as people seek something local with which to identify in today's increasingly disorienting global reality.
After discussing Usmanov's attempts to take-over Arsenal with the British journalist, I began to ponder how I would react to this situation if I were a football fanatic from north London. Then it dawned on me that my own favorite football team (American football that is) from my hometown was facing a very different dilemma related to ownership and localism. The
Buffalo Bills
are facing an almost imminent sale once its one-and-only aging owner, Ralph Wilson, passes away. Wilson, who is 89, has already said that
his family will not take the team over after his death
. Having bought the franchise for a mere $25,000, Ralph Wilson would leave his family a serious inheritance tax debt if they were to take over the team,
which is now worth a whopping $821 Million
according to Forbes magazine.
The fear for Bills fans is that if the team is bought by a random billionaire in North America, there is a good chance the new owner will bring the team to a new city. Having already lost its professional basketball team,
the Buffalo Braves
in 1978 (they are now the Los Angeles Clippers), Many Buffalonians already fear that
a planned Bills regular season game next year in Toronto
is intended to be a sales pitch north of the border. And, if it is not Toronto, it could easily be another "football-less" city in the United States that could be the next home of the Buffalo Bills.
At present, most Buffalo Bills fans (or at least those not from Toronto) are desperately hoping that
one of Buffalo's embarrassingly few oligarchs will come to the rescue and buy the team
while others are begging Ralph Wilson to
keep the team in his family
. Personally, I think these hopes are remnants of an age past. Buffalo should be thinking globally. Why not invite Alisher Usmanov to Buffalo to buy the Bills? He has no reason to move them, and Buffalo will welcome him as a hero unlike the Arsenal fans. Furthermore, given Buffalo's sordid history of corruption and organized crime links, these issues are not likely to taint Usmanov's image among the city's citizenry. Even better, why not convince Timur Kulibayev to buy the Buffalo Bills? He has yet to have a big-time sports franchise, and why not make a bigger footprint for Kazakhstan in the U.S. I am sure Bills fans would concede to have exhibition games in Astana. We could even change the name to the Buffalo Nomads - a small price to keep the team local. We could also invite Borat to sing the national anthem! In Buffalo's case, a Central Asian oligarch would not be a threat to localism, but a savior. It may sound a little crazy, but it would be a "win-win" situation for Kazakhstan and Buffalo. Where is
James "Mr. 5%" Giffen
when you need him? He could probably pull this deal off. Of course, in his absence, I would gladly volunteer to facilitate the deal for a mere 2% of the franchise (and maybe a private luxury box).