Rabiya Kadeer and the Nobel Peace Prize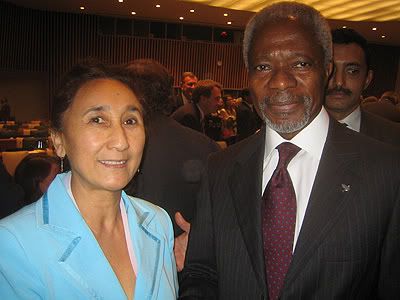 Rabiya Kadeer with Bill Gates in 1994 (above) and Kofi Annan in 2006 (below)
In 1998, I was eating laghman at a Uyghur ashkhana (eatery) in the Uyghur section of Urumqui. The owner, hearing that I spoke Uyghur, began to talk with me. Upon learning that I lived in Almaty, we exchanged information about the Uyghur community in Kazakhstan. Then, he asked me if I had ever met
Rabiya Kadeer
. I said that I had not, but I had heard much about her. Then, about ten minutes later, none other than Rabiya Kadeer herself came by the ashkhana. The owner introduced me to Rabiya-khonam, and she asked me to come to her office in fifteen minutes on the top floor of her department store that was next to the eatery. After ascending the stair case past numerous security officers, I came to her office. She invited me in, and she told me that she was very pleased to learn that I was studying Uyghur history and culture. She gave me one of her husband's book, and she thanked me as an American for the United States' acceptance of her husband and daughter as refugees. Then, she proceeded to tell me that she was under house-arrest for having helped the families of men who had been killed as a result of the
1997 Kuldja protests
. I could feel that I was in the presence of somebody great, a person who could stand up to the largest state in the world for something in which she believed. Less than a year later, Rabiya Kadeer was imprisoned for passing state secrets to foreigners. She had given publicly available newspaper clippings to a congressional research delegation from the United States. Rabiya spent six years in jail and was only released last year.
Rabiya Kadeer is indeed a special person. Until her arrest, she had accomplished incredible achievements as a female minority in the Chinese state. She had become a millionaire through China's trade with Central Asia, and she had founded a grassroots NGO to support Uyghur mothers in their attempts to pursue a career and support their families. After a story about her business prowess had appeared in the Wall Street Journal in 1994, Bill Gates and Warren Buffet even flew to meet her as respect to the great obstacles she had traversed in becoming the first Uyghur woman millionaire in China.
Last summer, I saw Rabiya again in Washington, DC, where she spoke before a modest audience of various people at Johns Hopkins School for Advanced International Studies (SAIS). While she was frustrated by the inability of her translator to catch all the nuances of her speech, she spoke passionately about being held in solitary confinement and being prevented from speaking to any other human for several years on end. Rabiya could not be broken.
I was very pleased to hear that
Rabiya-khonam had been nominated for the Nobel Peace Prize this last week
. This transpired as
her three sons remain detained by Chinese authorities and one of her daughters remains under house arrest in Urumqi
, the capitol of the Xinjiang Uyghur Autonomous (sic) Region of China. Rabiya did not win the prize, but
she was graceful as always in congratulating Muhammed Yunus of Bangladesh who had been given the award
. She also took the opportunity to
ask Mr. Yunus to introduce his poverty reduction program in her homeland of Eastern Turkestan (Xinjiang) in order to assist Uyghurs suffering from poverty
. While the Uyghurs in the northwest of China face being overwhelmed by Han Chinese immigration into Eastern Turkestan (Xinjiang), I have no doubt that Rabiya Kadeer will continue to serve the difficult role of being the conscience of the international community, which generally is blinded to the Uyghurs' plight in China given the economic importance of the PRC. While she did not win the Nobel Peace Prize this year, Rabiya Kadeer is a person who deserves our greatest respect.