Kyrgyzstan's December Elections: Can Bakiyev pull a Narabayev, or will he end up repeating an Akayev?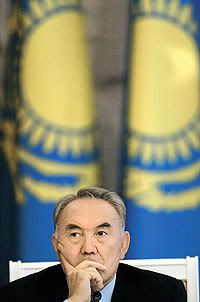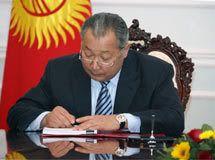 The shot-gun parliamentary elections in Kyrgyzstan this December could be the biggest test yet of which way the country is headed. The last parliamentary elections in March 2005 were so flawed that it brought the government down. But, one of the curious aspects of the "Tulip revolution" was that while it was sparked by flawed parliamentary elections, the parliament that was elected in that flawed election retained their seats. In many ways, therefore, one would think that these upcoming elections could finally put fresh people with different visions in the parliament, thus helping to put the country on the road to reform that the March 2005 events purportedly paved. Unfortunately for Kyrgyzstan, the situation is not that simple.
Kurmanbek Bakiyev's government has been embroiled in controversy almost ever since it was established.
The government has been slow to implement promised reforms, and opposition coalitions have staged numerous large protests over the last two years in an attempt to hold Bakiyev accountable for the steps towards democraticization that he has not taken
. While almost immediately after March 2005, most politicians agreed that a new constitution was needed to avoid a repeat of the corruption and nepotism of the Akayev years, disagreements have raged over what that new constitution should look like. In fact, until recently, it seemed that the country might remain in a political standstill indefinitely. In the last several weeks, however, that has changed drastically.
First,
a referendum was called to vote on a version of the new constitution
that had been found acceptable by Bakiyev on October 21. While it was reported that
76.1% of the eligible voters participated and only 3.7% voted against
, reports from people in Kyrgyzstan during the vote suggest that the turnout was meager and that there were numerous violations. Nonetheless, most people were at least nominally satisfied that a new constitution had finally been adopted and that it included a party-list proportional electoral system for parliamentary elections.
With the ink on ballots still fresh, President Bakiyev almost immediately dissolved parliament and called new elections for December 16th. Now, the various political parties of Kyrgyzstan are scrambling to organize for new elections. Given the reportedly poor implementation of the referendum, however, there are serious concerns about whether December's quickly planned vote will be free and fair.
Furthermore, it is questionable how opposition parties will manage to win seats in this new parliament even if the election is reasonably implemented. President Bakiyev has organized a new "party of power," Ak Zhol, and it is likely that this party will benefit from the use of administrative resources during the election. Standing with Ak Zhol may be as many as 50 parties. According to the last count of Akipress,
50 parties have already announced their intention to run, and 22 of these are already registered
for the actual election. With the electoral legislation forbidding multi-party blocs and stipulating
a threshold of 5% of all registered voters
for getting into parliament, the many small opposition parties will be at an obvious disadvantage. To add to these difficulties, opposition parties are already complaining that their campaigns are being limited by authorities, and oppositionist
Kubatbek Baibolov has even claimed that he and his supporters were attacked
by undercover security forces in Naryn during a recent campaign trip.
Given this context, it looks like that President Bakiyev may be thinking that he can reproduce the grand victory of President Nazarbayev's Nur Otan party in the first all-party-list election for Kazakhstan's parliament. That election, of course, resulted in no opposition parties receiving seats in parliament, which is essentially a one-party body that supports Nazarbayev's policies. Bakiyev, however, is not as popular as Nazarbayev, and Kyrgyzstan's government is not as strong and well-funded as that of Kazakhstan. If Bakiyev is trying to reproduce the landslide results of Kazakhstan's parliament, therefore, it may backfire. Instead, he may end up like his predecessor Askar Akayev, who fled the country in the face of protests following the country's last parliamentary elections. Such a scenario, of course, would not be good for either Bakiyev or Kyrgyzstan. At this point, the best anybody can hope for is that these elections are carried out as cleanly as possible and are successful in electing a parliament that reflects the diverse political positions of Kyrgyzstan's citizens. Regardless, one thing is for certain – the way that this election is carried out will determine which way Kyrgyzstan is headed politically for at least the near future.