Kyrgyz "Maydan," the Sequel (Part 12): Bakiyev Signs Compromise Version of Constitution and Political Crisis is Averted, But for How Long?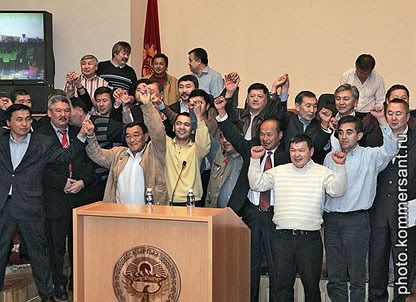 Parliament celebrates after accepting draft of new constitution (Kommersant)
Today,
president Bakiyev signed a new constitution into law for Kyrgyzstan.
While it is not clear how the new constitution will affect the political situation in the country at present, it does suggest at least slightly increased powers for the parliament and slightly decreased powers for the president (KyrgyzReport provides a quick overview in English of some of the changes in the constitution
HERE
). As one Kyrgyz legal analyst notes,
the real power of the new constitution depends most of all on its implementation.
Reports from Kyrgyzstan suggest that the pro-Bakiyev protesters have almost completely left the area of the parliament, but there is still a significant presence of opposition protesters in the Alatoo square. Some of the opposition protesters are disappointed that Bakiyev remains in power, but the movement has generally declared the compromise a victory. The situation seems to be under control, but pressure will be placed on Bakiyev and parliament to use the new constitution to initiate significant reforms. As one sympathizer of the opposition told me, if they don't – there will be more protests in the spring or summer. One question, for example, that remains unresolved is the status of
state television, which showed itself once again to be a critical force in the partisan support of the president
during this crisis. It had been one of the opposition's demands previously that state broadcasting be transformed into public broadcasting, but this question did not seem to fit into the compromise. At present, however, the question is whether the political leaders of Kyrgyzstan will use the winter to initiate real change. Otherwise, the political crisis in the country might just be entering a temporary hibernation until the weather is warm again.