Meanwhile in Uzbekistan….Googoosha says let them eat cake…or is it let them wear mink?: Gulnara Karimova and Uzbekistan's Imaginary Middle Class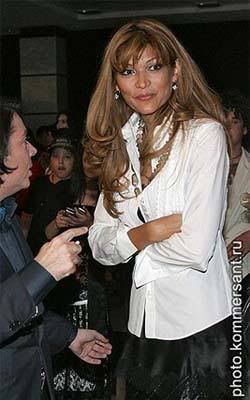 Gulnara and Yudashkin at fashion show in Tashkent
In my last post, I noted
the growing middle class that sets Kazakhstan apart from the rest of Central Asia
. This middle class could be the driving force of gradual change in Kazakhstan as the country's elite will need to address the needs of this emergent class in order to retain the economic stability that is keeping pockets (or Swiss bank accounts) full at the top. By contrast, while there is a thin layer of society in Uzbekistan, working for international organizations and companies or for the government, which can be concerned about more than bread, the majority of the country is living hand to mouth.
That situation, however, does not seem to worry the elite, which continues to create a world of luxurious events in order to create a Potemkin's village of middle class lifestyle in Tashkent. The latest such event was
a Valentine Yudashkin fashion show organized by President Karimov's eldest daughter Gulnara.
According to the Russian paper Kommersant, Gulnara was the center of attention and received a standing ovation when she addressed the audience (it appears that Googoosha is loved for more than
her singing
). As Kommersant described it,
"how can you not love the eldest daughter of the president of Uzbekistan: she is beautiful, intelligent, and elegant, like a princess from a fairy tale."
Kommersant also notes that other luminaries in attendance included two of Russia's wealthiest Uzbek businessmen,
Iskander Makhmudov
of mineral and print media fame and
Alisher Usmanov
, who has
recently taken over the helm at Kommersant
while continuing to play a prominent role in Gazprom. Apparently the
piece de resistance
of the evening was the presentation of a mink coat with different colored pieces constructing a "traditional" Uzbek pattern (Atlas?). The whole scenario is reminiscent of Marie Antoinette's supposed comment about the starving French peasantry – "let them eat cake." In this case, is the princess trying to say "let them wear mink" right before the winter cold sets in? Well, we all know
what happened to Marie Antoinette.