Kyrgyz "Maydan," the Sequel (Part 5): Public Television and Constitution Remain Sticking Points in Kyrgyzstan's Political Stand-off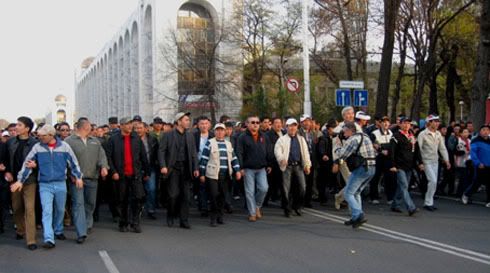 Deputy Teklebayev leads protestors on a march from Alatoo Square to the State Television station (courtesy of
KyrgyzReport
)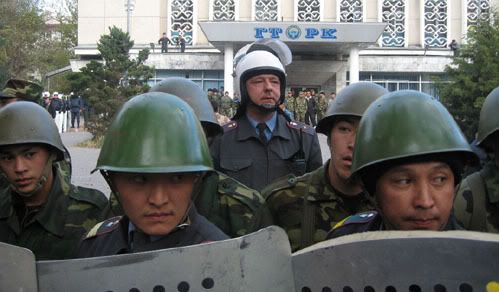 Policemen Protect State Broadcasting Headquarters from Protestors (courtesy of
KyrgyzReport
)
Sunday's protests continued to push both opposition and government further from compromise. According to the KyrgyzReport,
protests were organized Sunday in Tokmak, Lebedinovka, and other towns in Chui Oblast'
in support of the main rally on Bishkek's Alatoo square. Unfortunately, there is no further information about these regional protests. KyrgyzReport also tells us that during the day on Sunday,
a group of opposition supporters also marched to the state television station
to demand that the station be transformed into public broadcasting and that, in the interim, it broadcast balanced coverage of the political developments in the country. This action reinforced the importance of public broadcasting in the opposition's demands of the sitting government. The other critical issue in the opposition's demands relates to constitutional reform. President Bakiyev had promised to present his preferred version of a new constitution to parliament today, but the opposition claims they have secured a large enough boycott by deputies to prevent a vote on the constitution on Monday. A press conference held by Mels Eshimkanov, Roza Otunbayeva, and Edil Baisalov Sunday evening again
reinforced the resolve of the opposition to continue its protests until the president either resigns or meets the demands of the protestors.
Edil also reports on his blog that Kulov has begun his own public campaign to dissuade people from joining the protestors. Kulov apparently has mobilized people to
gather signatures against the protestors through a public letter he has addressed to the Kyrgyz people.
Virtually all sources on the web agree that Monday will be a critical day. More protesters are expected to arrive in Bishkek, and Bakiyev will try to get parliament to vote on his version of a new constitution.
On Kyrgyzstan's Diesel Forum, the tension is apparent in people's posts, and one person has posted the picture below
that shows a growing military presence on the square early Monday morning that is obviously meant to intimidate the protestors.