Kyrgyz "Maydan," the Sequel (part 4): Kyrgyz Protests Hankering Down for the Long Term?
Protests continued for the third day on Saturday, and thanks to
the new Kyrgyz Report blog
, we have photos of the activity.
Leaders of movement speaking before crowd during daytime rally (courtesy of the
KyrgyzReport
)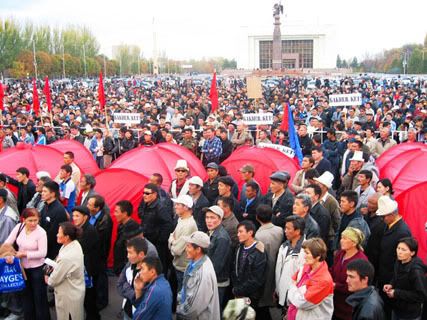 Crowd listening to speakers on Alatoo Square this Saturday (courtesy of the
KyrgyzReport
)
The government continues to view the protests as essentially anti-constitutional,
accusing the organizers of preparing an attempted coup.
While the organizers, and
NGO leader Edil Baisalov in particular
, essentially confirm that the audiotape the government are using as evidence of the planned coup is real, they deny that they have any violent actions planned. Instead,
as Baisalov notes in an interview with Kyrgyzstan's Akipress
, they began the protests with the intentions of calling for the resignation of Bakiyev and Kulov, and there is nothing unconstitutional about that. Baisalov further noted that he is ready to give his testimony to the security forces about the intentions of the protests because it will only provide another opportunity to explain the "For Reform" movement's intentions.
Generally, a smaller group of protestors is spending each night on the square while the crowds grow during the daytime. Last night,
six large yurts were set up as an addition to the hundred and fifty some small tents already in place.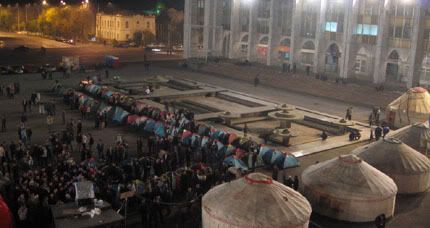 Tent and Yurt encampment Saturday night (courtesy of the
KyrgyzReport
)
Baisalov, who appears to have become the protest organizers' primary contact for media, has further noted that
more yurts are expected to be constructed Sunday by new groups joining the protest from various regions around the country.
According to Baisalov, Sunday will likely be the largest crowd to join the protest in Bishkek to date, and they will be treated to a large concert in the middle of the day. Other reports add that the
protests will also spread on Monday to include local gatherings in various locations around the country.
In general, it does not appear that a compromise is in the works anytime too soon. Numerous parliamentarians have already signed on to a pledge to
boycott the president's planned address to parliament on Monday.
The government continues to remain steadfast in its accusations of a planned coup, and it has initiated criminal cases against several organizers of the protest. And, as the KyrgyzReport tells us,
the coverage on television appears to be mostly pro-government rhetoric, with the exception of NTS which is showing "no-comment" footage of the protest.
The next few days are likely to be extremely tense.
NOTE:
Many of the links in this post are often off-line due to problems accessing Kyrgyzstan-based websites from abroad at the moment. Websites that are difficult to access now include www.akipress.org and www.24.kg. The reasons for these problems are unknown.