Cadre Re-shuffle in Kazakhstan: Where Will the Cards Land?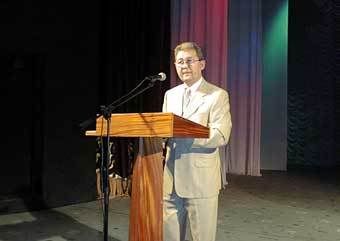 Aslan Musin (top) and Karim Masimov (bottom)
Ever since the presidential election late last year, observers of the political scene in Kazakhstan have been waiting for a serious re-shuffling of top-level positions—particularly that of Prime Minister. With President Nazarbayev back from his trip to the U.S., it seems that some changes are afoot. Yesterday, it was reported that
Aslan Musin, former Akim of Atyrau Oblast', had been named Minister of Economy and Budget Planning
. Musin replaced Karim Masimov, whose star has been rising within the inner circle of the president for the last several years. As one might expect,
the forums on Kazakhstan's most popular news websites, especially "zonakz," have been alive with speculation about the move
. Some posters suggest that Musin's new appointment indicates that the "lesser zhuzh" (with Almaty's Akim Imangaly Tasmagembetov at the head) is on the rise in Kazakhstan's politics, but others have suggested that Musin is more aligned to what some people call the "fourth zhuzh" of Alexander Mashkevich. The other outstanding question relates to Mr. Masimov. Does his replacement suggest he is on to bigger and better things, such as Prime Minister? Will he return to the background of the political scene? Or, has he fallen out of favor for some inexplicable reason? Before anyone jumps to conclusions, however, it should be remembered that President Nazarbayev has long been a master at the element of surprise, and he balances elite interests by always keeping the various interest groups guessing.
On a more sobering note for those doing business in Atyrau, posters on the "zonakz" site were generally not complimentary of Musin's replacement, Beregey Ryskaliev. Several
posters suggested that Ryskaliev and his family had a history of being implicated in racketeering and other illicit activities
. While such comments are obviously pure speculation, his interaction with Atyrau's international business community should show his real colors soon enough.