Kyrgyz Opposition call for Public Protest on November 2: Is Time Running Out for Bakiyev?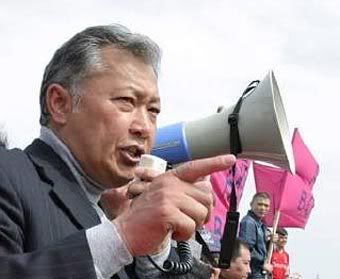 President Bakiyev at protests calling for the ouster of his predecessor Askar Akayev in March 2005
The coalition of opposition groups "For Reform" announced on Friday in Kyrgyzstan that they will organize a large public protest on November 2 in the Ala-Too square of Bishkek in order to demand that President Kurmanbek Bakiyev make needed reforms now or resign. According to Aki Press,
the coalition is calling for Bakiyev to address all of the demands from the May 27 "For Reform" protest, the September 17 Kurultay, and the recent resolutions of the parliament by the end of October
. If he does not do so, the organizers say they will call for Bakiyev's ouster. While the Aki Press report suggests that the organizers will call for an end to the Bakiyev-Kulov tandem of rule, opposition politician
Melis Eshimkanov made a point that only the question of Bakiyev's resignation will be raised, not the question of Kulov's position
.
This comes the day after
Bakiyev made more sweeping promises for reform in an address to the nation
. Can Bakiyev still buy time in this situation? Is one month enough time to implement the reforms demanded of him? Will there be more deals made as usual? While one does not want to jump to conclusions given the last rocky two years of politics in Kyrgyzstan, it does seem that the opposition is taking a more aggressive position than in the past. The question remains – is time running out on the second president of Kyrgyzstan, Kurmanbek Bakiyev?