Are the Miner Strikes in Temirtau merely a Grassroots Phenomenon?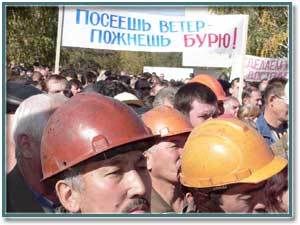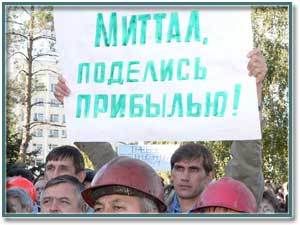 From
www.zona.kz.net website
. The sign held up in the second picture says "Mittal, share the profits!"
As I noted on September 20
, a recent large accident at Lakshmi Mittal's mines in the Kazakhstan city of Termirtau could lead to increased problems for the British-Indian billionaire and long-time investor in Kazakhstan. While President Nazarbayev has been visiting the U.S., the situation in Temirtau has become increasingly troublesome for Mittal. For a week now, miners in Temirtau have been striking at the Mittal Steel Works complex. They want increased wages and safety improvements, and
they are demanding that "Mittal Steel Temirtau" respond to their list of requests by October 7
or face further strikes and protests. According to Kazakhstan's Channel 31 news program, these are the
largest worker strikes in Kazakhstan in sixteen years, and some 35,000 miners and plant workers have signed on to a set of demands being sent to Mittal personally
. The demands are understandable, and the fact that workers are organized enough to levy serious demands appears to be a positive sign for freedom of assembly in Kazakhstan. One cannot help but wonder, however, if this is an entirely "grassroots" effort. As I noted earlier,
Dariga Nazarbayeva wrote an important opinion piece in the newspaper Karavan in March of this year where she called for the renewed development of labor unions in Kazakhstan
and singled out Mittal's steel works in Temirtau and Kazakhmys as two of the large industrial enterprises that desperately need to be held accountable by independent trade unions. With Nazarbayeva's "Asar" party now consumed into the "Otan" party, could the disaster in Temirtau that killed 41 miners provide Nazarbayeva with a new entrée into politics via trade unions? If so, Mittal may just be an easy target for now, but she may be more interested in Kazakhmys and the mines and factories of Alexander Mashkevich's Eurasia Natural Resources Corporation. To date, Nazarbayeva has not associated herself with the strikes in Temirtau, but one cannot help but wonder if her "call to arms" for the trade union movement in Kazakhstan in March is somehow related to the sudden appearance of the biggest strikes in Kazakhstan's history as an independent state. This is certainly a situation that warrants attention over the next two weeks.