Kulibayev on the Rise?: Karim Masimov Reportedly Nominated as the New Prime Minister of Kazakhstan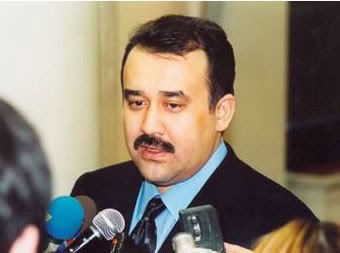 Karim Masimov, first Uyghur Prime Minister of Kazakhstan?
After some three and one-half years as Prime Minister of Kazakhstan,
Daniel Akhmetov stepped down on Monday
. According to at least one source, President
Nazarbayev has already nominated Karim Masimov
as his choice to take the place of Akhmetov. While people have been speculating about Masimov's candidacy to succeed Akhmetov for some time, it is still a surprising choice if reports are verified by official announcements in the upcoming days.
The choice of Masimov would appear to be a significant departure from Akhmetov's reign in many ways. While both technocrats, the two politicians differ substantially.
Akhmetov
, a native of Pavlodar, was best known as the man who brought Pavlodar oblast under control after the fall of the Democratic Choice of Kazakhstan movement and the arrest of the Oblast's popular Akim, Galymzhan Zhakiyanov. Many observers suggest that Akhmetov is a client of the powerful metal mogul Alexander Mashkevich. Politically, Akhmetov is generally seen as a conservative "yes-man."
Masimov, on the other hand, is seen as a progressive young reformer and allegedly as a client of President Nazarbayev's son-in-law Timur Kulibayev. Furthermore, he is rumored to be an ethnic Uyghur despite being registered in his passport as a Kazakh. Thus, he would be the first Prime Minister of Kazakhstan to be neither Kazakh nor Russian and the first non-Kazakh since the early 1990s.
While it is still early to foretell the exact meaning of this change in cadres, people in Kazakhstan are already speculating
on its political significance
. Are we seeing the continuation of Kulibayev's rise in the intra-elite power struggles of Kazakhstan, is this a sign of a new era of reforms, or is this just a swing in the pendulum? After all, Tokayev, was considered "progressive" as well, but he did not initiate significant reforms as Prime Minister. Regardless, in Kazakhstan, the position of Prime Minister is more technical than political. But it is a symbolic position, and symbols can often be quite powerful. The most interesting question, however, is what other changes in the government will follow. In Kazakhstan, a change in Prime Minister usually means an entire re-shuffling of high-level government positions (and subsequently low-level ones as well). Thus, most government workers in the country are probably in for some sleepless nights in the weeks ahead.