Kyrgyzstan Awaits its Next Political Crisis: Does Kurmanbek Bakiyev have Nine Lives?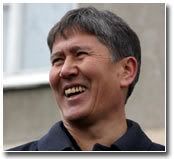 In the last week, Kyrgyzstan's political situation has taken another unexpected turn that will likely further obscure the machinations already evolving in the country's political arena this spring. Finding himself increasingly backed into a political corner by his former ally Felix Kulov, President Kurmanbek Bakiyev has once again done what he does best –
sought compromise with the opposition
. He has done so by appointing an opposition leader,
Almazbek Atambayev, as the new Prime Minister of the country
. Since Atambayev should be empowered to form a new government, many are expecting the beginnings of a new coalition government. As is usually the case in Kyrgyzstan, however, things are not that simple.
Over the last month, ex-Prime Minister Felix Kulov has become more vocal as a critic of Bakiyev and has been establishing himself as the leader of a new opposition movement. As the culmination of these efforts, Kulov has constructed a coalition of opposition forces that is ready to organize
large protests against Bakiyev's government beginning April 11
. Furthermore, Kulov is presently visiting Moscow, where some believe he is seeking support for his position from various Russian quarters. Kulov appears unimpressed with Bakiyev's last ditch effort to engage the opposition and has stated forcefully that he
does not intend to have any "back-door" negotiations with Bakiyev either before or after the April 11 protests
.
Kulov's political authority, however, is not what it was even last fall. Many in the opposition do not trust Kulov after he worked to undermine opposition protests in November. Furthermore, political allies of Atambayev, such as
Roza Otunbayeva, are already saying that they are waiting to see if a new coalition government is actually being formed and, thus, are not supporting the April 11 protests
.
While it is clear that there will protests on April 11 and that Felix Kulov will likely lead the crowds onto the square, it is less evident as to who will be at Kulov's side. With Atambayev now in the government, Otunbayeva already saying she will not participate, and Edil Baisalov scheduled to give a talk in Washington, DC on April 11, the group on the square will be missing several key figures and their supporters who were present last November. That being said, it can be expected that Kulov will have attracted new supporters who may add a completely new dimension to the situation.
In the final analysis, it looks as if Bakiyev's last ditch effort to compromise with at least part of the opposition may save him once again. By bringing Atambayev in as Prime Minister, he has restored the north-south balance in government and has split the opposition to a certain extent. Furthermore, he has made himself look like the one ready to negotiate, thus creating an impression that Kulov is motivated less by Bakiyev's political actions and more by personal issues between the two politicians. That being said, Felix Kulov may have a thing or two up his sleeve going into the April 11 protests that could change things quickly. Furthermore, even if Bakiyev does evade political suicide this April, it is questionable how many times he can continue to broker such compromises without championing real reform. Afterall, even a cat only has nine lives.
The more critical question that remains in my mind, however, is whether all of this political maneuvering will continue to divert attention away from the reforms that Kyrgyzstan must adopt politically if it is ever going to move away from destabilizing street politics and towards institutional and sustainable democratic governance. As long as attention to reforms is diverted, Kyrgyzstan can be expected at best to muddle along as it has since the March 2005 events. The country and its people, however, deserve more.