Kyrgyzstan Opposition "Kurultay" Takes Place in Aksy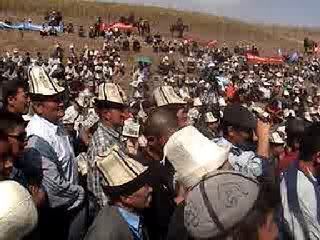 Photos from
Edil Baisalov's blog
On Sunday, the co-leader of the Asaba party, Azimbek Beknazarov went through with his promised "Kurultay" in his home region of Aksy in the south-west of Kyrgyzstan. News reports from Kyrgyzstan provide different figures for the number of participants ranging from the
700
claimed by the oblast internal affairs section to the
2000
claimed by some opposition groups.
Reportedly, the attendees included major political figures from both the opposition and the government as well as numerous civil society leaders. The meeting's demands that have thus far appeared in the Kyrgyz press include: 1) concluding the investigation into the Aksy incident of 2002 in which unarmed civilians were killed by security forces and convicting those at fault within one month; 2) immediately beginning the implementation of constitutional reform; and 3) conducting a full and independent investigation into the ordeal of Omurbek Tekebayev's arrest in Warsaw. While the opposition has apparently stepped away from its previous demands for the resignations of Bakiyev and Kulov, some attendees at the "Kurlutay"
reportedly carried banners calling for Bakiyev's resignation
. The real impact of the "Kurultay" may not be apparent until the various political actors involved return to Bishkek.
UPDATE: Later in the day,
the full list of demands from the "Kurultay" was released
. In addition to those already mentioned above, other notable demands included that President Bakiyev should remove all of his relatives who have government posts within ten days and that the Bakiyev administration implement public broadcasting reform at KTR (the state tele-radio company) as promised.